After the latest failed attempt to induce ovulation with injectable medications I was left with only one option from my fertility specialist: LOSE WEIGHT. Dr. V suggested Bariatric Surgery and even said I should try to get on the Biggest Loser. Since my Dear Husband, Aaron, doesn't want to be a part from me for a long time (awwww...) I have been pursuing bariatric surgery. I am lined up to see the surgeon in a couple weeks, but at the same time I am working my butt off to see what I can do on my own.
So, here I am trying ONCE AGAIN to lose the weight, ugh! It's the struggle of my LIFE to lose weight, which I am sure some of you can relate to.
Here's the long and short of it... Growing up I was always VERY active in sports all year 'round. Even so, I was also always on the larger side and definitely felt like the 'fat girl' even though looking back at photos I have no idea what I Was thinking. My senior year in HS I hurt my knee in basketball and am unable to run and/or play active sports anymore since then I have gained and gained and gained until I got to....
313.6 LB
After trying many diets, exercise programs This is where I Stand. I can generally lose 25 lb pretty easily and then I get stuck and ultimately give up. THIS TIME WILL BE DIFFERENT! Either I will be able to stick to it on my own and lose a LOT of weight or I will be having bariatric surgery.
I really DON'T want to have surgery, but if it is what I have to do, I will do it. I am DONE being unhealthy. I am DONE taking handfuls of pills to control medical issues that could be resolved if I lost a significant amount of weight. I am DONE struggling to get pregnant due to anovulation partly because of the excess weight I carry. I am just DONE.
So, here I am....
Starting Weight: 313.6 4/11/2010
Current Weight: 298.0 4/21/2010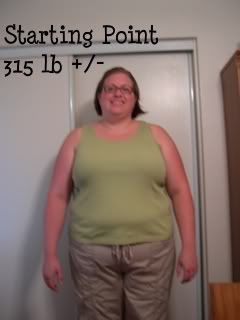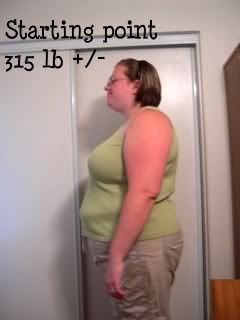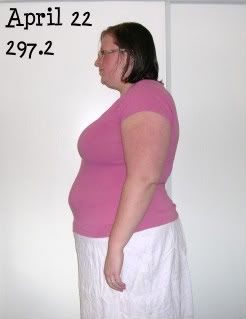 And here is what I am doing.... It is the pre-op diet for Kaiser's bariatric program
1200 calories, high in protein lower in carbs.
I am to eat my protein first then move to fruits/veggies and last carbs.
I am to eat slowly, one bite a minute chew each bite 30 times
I completely gave up soda, caffeine, and carbonation
I am drinking water, decaf tea, flavored water, lemonade etc. but not WITH my meal.
I am walking after dinner with my husband and dogs and I have a couple work out videos my mom let me borrow (pilates and yoga)