This past weekend I traveled down south to visit my family so I didn't have a chance to do my Monday update...
I am still struggling daily with dehydration. I am getting as much water in as I can, but I still can't seem to catch up. I think part of the problem is I have been having only wet/runny BMs since surgery. I don't know if that is because I am on a "full liquid" diet or if there is something else to it. I just try to rest up as much as I can and keep drinking fluid.
I have my two week follow up with the surgeon last Friday that went well. He checked out my belly button. I had been told last Monday (by the on-call bariatric nurse) to close it back up with steri strips, then when it started draining a different on-call nurse said to take off the strips, pack it with gauze and change the dressing 3 times a day, and then when he saw it he said I didn't need to pack it at all... just cover it with a gauze pad or band aide when I am wearing clothes I don't want to get drainage fluid on. Otherwise I have been keeping it uncovered and clean. It seems to be getting better, so that is really good.
My Surgeon was not happy the on-call nurse had told me to stop taking my blood pressure meds (my blood pressure was really low last week due to dehydration and probably also the rapid weight loss making my dose too high) because the particular blood pressure med I am on can cause rebound hypertension and possible serious cardiac episodes if stopped abruptly. So, he put me on half the dose I was on and said to follow my blood pressure and meds with my PCP from here on. My blood pressure has been normal.
I wasn't able to move on to the next stage diet on Friday like I was supposed to since I hadn't eaten for three days. I was trying to get in as much water as I could, so I focused on water and protein drinks only. I do not feel hungry so it didn't really bother me not to eat. Don't get me wrong, I do have cravings for solid food, but I don't actually feel hunger. I continued with the "full liquid" diet through the long weekend and yesterday had my first "real" meal of 1 egg, 1/2 slice 2% fat cheddar cheese, and 1 deli thin slice of chicken meat (1/6th of a serving) with a dash of salt and pepper. I was able to eat about half of that, the dogs were blessed with the rest- hehehe!
I organized my closet yesterday. I made a HUGE pile of more clothes to take to the Salvation Army and organized what I have that fits me (or will fit me). I put on some size 20 pants I figured would be tight on me, but they fit PERFECTLY I am wearing those same pants in my my weekly picture. I am almost 65 pounds down, weigh 251.2 lb. and am wearing a size 20/22 (from a size 26+). Even though I do not have make-up on and my hair isn't really done in these pics, they are my FAVORITE... This is the first pic where you can actually see my shirt come IN where my big tummy used to be! My big pouch on top is now smaller than the bottom one- YAY! I hate that top pouch SOOOOOO much!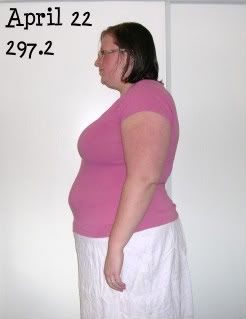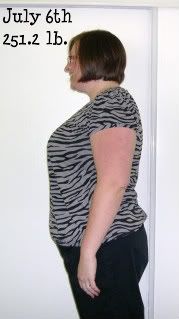 PS- If anyone has size 20, 18 or 16 clothes they are no longer in need of I am MORE than willing to take them off your hands